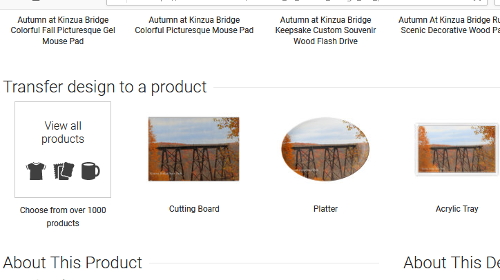 One of the nicest things about Zazzle is the ability to transfer a design you like from one product to another. Many times designers put the same design on a number of items but if you find they haven't put it on an item you are looking for, you can do it yourself. To do this, follow this short tutorial. To the left you see a photo that shows the option of transfering a design to one of MANY available products. You will find this option a little farther down the page below the item you were browsing. A number of items are suggested as being available to transfer the design and show a thumbnail view of what it will look like on that item. Scroll through and if the item you are looking for is pictured, simply click on it, make any changes you might desire, and place your order.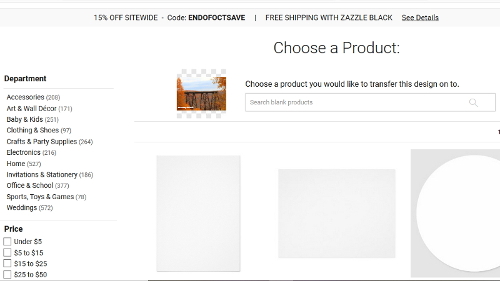 But lets take a step back. If you'd like to look through more products and decide on an item to transfer to that isn't pictured, click on the view all products link and you will be taken to the page pictured to the right and may choose from over 1000 items to transfer the design. So let's take a minute and go through a scenerio of transferring this autumn photo of the Kinzua Bridge to another product.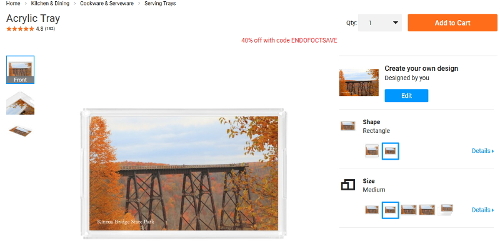 So you looked through the items and decided to transfer the design to an acrylic tray that would be the perfect addition to your Thanksgiving dinner table. Click on the tray and the page to the left will come into view. Here you can get a better detailed image of how your new acrylic tray will look from several different angles, size and/or shape choices, as well as how much it will cost. If you are happy with the design, choose the number you want to order and click add to cart before begining the checkout process.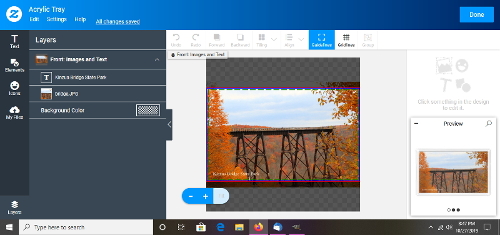 If you decide you'd like to add or change some text or change the size/position of the photo, click on the edit button in order to be taken to the page on the right. From here you can add or delete text, reposition the photo or add other elements to it, and even upload your own items as additions to the piece. To see how your new acrylic tray is going to look, click on preview in the lower right corner and view the item full screen. If you are happy with your modifications, click on done in the upper right corner to go back to the previous screen and once again choose the number you'd like and any other options before begining the checkout process. I hope this helps explain how you can take pretty much any design on Zazzle and transfer it to another available product. If you are still in need of assistance, don't hesitate to contact me and I can try and give you further help as needed.